Jurassic World: Dominion Dominates Fandom Wikis - The Loop
Play Sound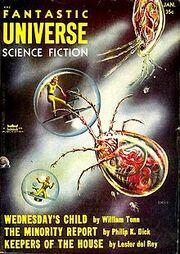 "The Minority Report" is a 1956 science fiction short story by American writer Philip K. Dick, first published in Fantastic Universe. In 2002, the story was adapted into a film directed by Steven Spielberg and starring Tom Cruise, Colin Farrell and Max von Sydow. Spielberg's film was followed by a series of the same name, which debuted on the FOX Network on September 21, 2015.
Storyline
[
]
In a future society, three mutants foresee all crime before it occurs. Plugged into a great machine, these "precogs" allow the Precrime Division to arrest suspects prior to any infliction of public harm. When the head of Precrime, John A. Anderton, is accused of murdering Leopold Kaplan, a man whom he has never met, Anderton is convinced a great conspiracy is afoot. His new assistant, Ed Witwer, must have corrupted the system in an attempt to oust him from the position. On the run and suspicious of even his wife, Anderton searches for the minority report to clear his name, as only two out of the three precogs predicted his guilt. Through a series of betrayals and changing alliances, Anderton discovers that the three predictions are rather a progression of alternate realities. To maintain Precrime's authority, Anderton consciously decides to kill Kaplan, thereby affirming the validity of the second majority report. Anderton is thus exiled with his wife to life on a frontier colony and replaced by Witwer as head of Precrime. The story ends with Anderton's advice to his successor: "Better keep your eyes open. It might happen to you at any time."
Synopsis
[
]
The story reflects many of Philip K. Dick's personal Cold War anxieties, particularly questioning the relationship between authoritarianism and individual autonomy. Like many stories dealing with knowledge of future events, "The Minority Report" questions the existence of free will.