Welcome to PKD-pedia: a collaborative encyclopedia created by the fans, for the fans, and dedicated to housing a useful and informative database for the collective works of
Philip K. Dick
and the
film adaptations
they've spawned.
For more information about how you can get started here, please check the "
Helping Out
" section below.
Thanks for stopping by!
About Philip K. Dick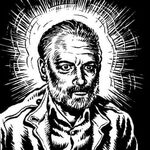 Philip K. Dick
was an American novelist, short story writer and essayist whose published work is almost entirely in the science fiction genre. He explored sociological, political and metaphysical themes in novels dominated by monopolistic corporations, authoritarian governments and altered states. Many of his works have been turned into films.
Featured Media
Comic-Con Trailer for the Amazon Original Series "The Man in the High Castle"
Featured Novel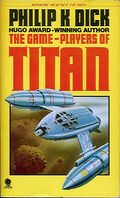 The Game Players of Titan
is a 1963 novel by
Philip K. Dick
that embodies all of the classic elements of a Dick novel, including a "post-apocalyptic setting, self destructive male characters, confusion as to what is real", etc. As the story goes, protagonist Pete Garden has just lost Berkeley and his wife, but he'll get a new one as soon as he rolls a three. It's all part of the rules of Bluff, the game that's become a blinding obsession for the last inhabitants of the planet Earth. But the rules are about to change--drastically and terminally--because Pete Garden will be playing his next game against an opponent who isn't even human, for stakes that are a lot higher than Berkeley.
Featured Film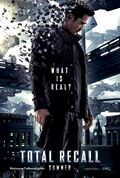 Total Recall
is a 2012 remake of the
1990 science fiction action film
(starring Arnold Schwarzenegger) of the same name, both of which are based on the novelette
We Can Remember It For You Wholesale
by
Philip K. Dick
. The remake will star Colin Ferrell as protagonist Doug Quaid/Hauser (a construction worker who discovers that he is actually a secret agent, who then travels to Mars to discover his true identity), Kate Beckinsale as Lori, and Bryan Cranston as the villain Vilos Cohaagen. Other cast members include Jessica Biel, John Cho, Bill Nighy, and Ethan Hawke. The film will be released on August 3rd, 2012.
Helping Out
Helping Out
Our goal is to collaborate with other fans in order to build a reliable, accurate resource with as much detailed information about episodes, characters, and story elements as possible. All are welcome to join in and contribute here, so long as edits are constructive, discussions are positive, and both are relevant to the works and worlds of Philip K. Dick.
We are currently housing
94
articles, and
296
files.
We need YOU to help us expand and add articles to this wiki!

For starters, please sign up to create a FREE personal account, or log in if you already have one.
---
---
If you're new to Wikia, please use the above links to get started.
If you already have editing experience, and you have an article relating to Philip K. Dick to contribute, use the box below to create it: <createbox>width=30</createbox>

Please keep in mind that over 50% of Wikia visitors access content via mobile platforms such as tablets and smartphones. Some custom templates may not properly show on mobile devices. To make sure everything looks great to all visitors, follow our best practices.
If you're looking to help with cleanup, you can start here:
---
---
Check out the
community portal
to see what the community is working on, to give feedback,
or just to say hi.
User Blogs
Community Voice

XD1
•
Len Wiseman's Total Recall remake is finally here! After a great deal of speculation, we finally get to see how it stacks up against the original. So, how good is the movie according to the critics? …
See more >
PKD in the News
Latest Poll