Writer
Philip K. Dick (short story)
Scott Rosenberg (adaptation)
Caroline Case (screenplay)
Ehren Kruger (screenplay)
David Twohy (screenplay)
Exec. Producer
Michael Phillips
Bob Weinstein (co-ex-prod)
Harvey Weinstein (co-ex-prod)
Tagline
In the future, not everyone is who they seem to be
Released on
January 4, 2002
Impostor is a 2002 American science fiction film based on Philip K. Dick's 1953 short story of the same name.
Plot
[
]
Based on a 1953 short story by Philip K. Dick, the film shares the schizophrenic author's long-running obsessions with concealed identity and humanity's potential inferiority to alternative life forms. Gary Sinise stars as Spencer John Olham, a respected government scientist in the year 2079 trying to devise a secret weapon that will help his fellow humans win a decade-long war with invading aliens that are cloning human subjects and using the replicas as walking time bombs. Suddenly, Olham is accused of being an alien spy and a nationwide manhunt to capture him ensues. With even his doctor wife (Madeleine Stowe) unsure that she can trust him, Olham must uncover the truth on his own, even as he's relentlessly pursued by Hathaway (Vincent D'Onofrio), a federal agent charged with destroying the clones.[1]
Gary Sinise -as- Spencer Olham
Madeleine Stowe -as- Maya Olham
Vincent D'Onofrio -as- Hathaway
Tony Shalhoub -as- Nelson Gittes
Tim Guinee -as- Dr. Carone
Mekhi Phifer -as- Cale
Gary Dourdan -as- Captain Burke
Lindsay Crouse -as- Chancellor
Production
[
]
Imposter has a complicated history, originally produced in early 2000 as a 30-minute short to be included in an anthology entitled "The Light Years Trilogy," a project that never got off the ground. So impressed was Dimension Films with the completed piece, however, that the footage was incorporated into a new feature version. That film was then shuffled around the release schedule for more than a year as effects were completed, reshoots were ordered, and the film was recut for a PG-13 rating instead of its original R. The R-rated "director's cut" was later released on DVD.[3]
Links
[
]
Trailers
[
]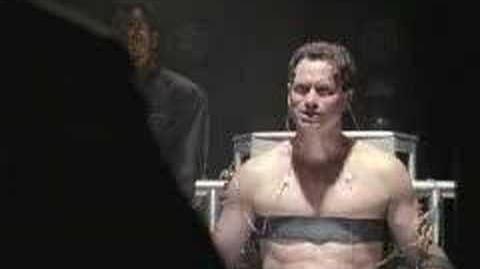 References
[
]